Right now, under normal circumstances and times, most of us Michiganders would be loading up our vehicles and gearing up for spring break. Energy and optimism would be flowing as families pile into their cars for that 20+ hour road trip to escape the grey and gloomy months of winter in pursuit of feeling sand between our toes and sun on our skin for the first time in what feels like an eternity.
That energy and emotional connection of what's to come in the week ahead would make those first couple hours of the road trip fly bye. It wouldn't be until we were several hours into the trip, a couple of restrooms, food, and fuel stops later, and that first detour or traffic jam encountered, would the pain of that long and grueling road trip start to set in. The point of "no return," when we find ourselves right in the middle of the journey, where it would take just as long to turn around and go back home as it would to keep moving forward.
It's during this phase of the trip that we become reliant on those we're traveling alongside. To help distract us, passing the time, and re-center our focus on clearing that next major milestone or marker along the way. Eventually, allowing us to push through all of the pain and obstacles endured together until we reach that part of the journey where the end destination starts to get within our reach. The phase in which the light at the end of the tunnel gets brighter and brighter by each passing minute. Energy and optimism begin to re-emerge, and before we know it, we're finally celebrating the arrival together.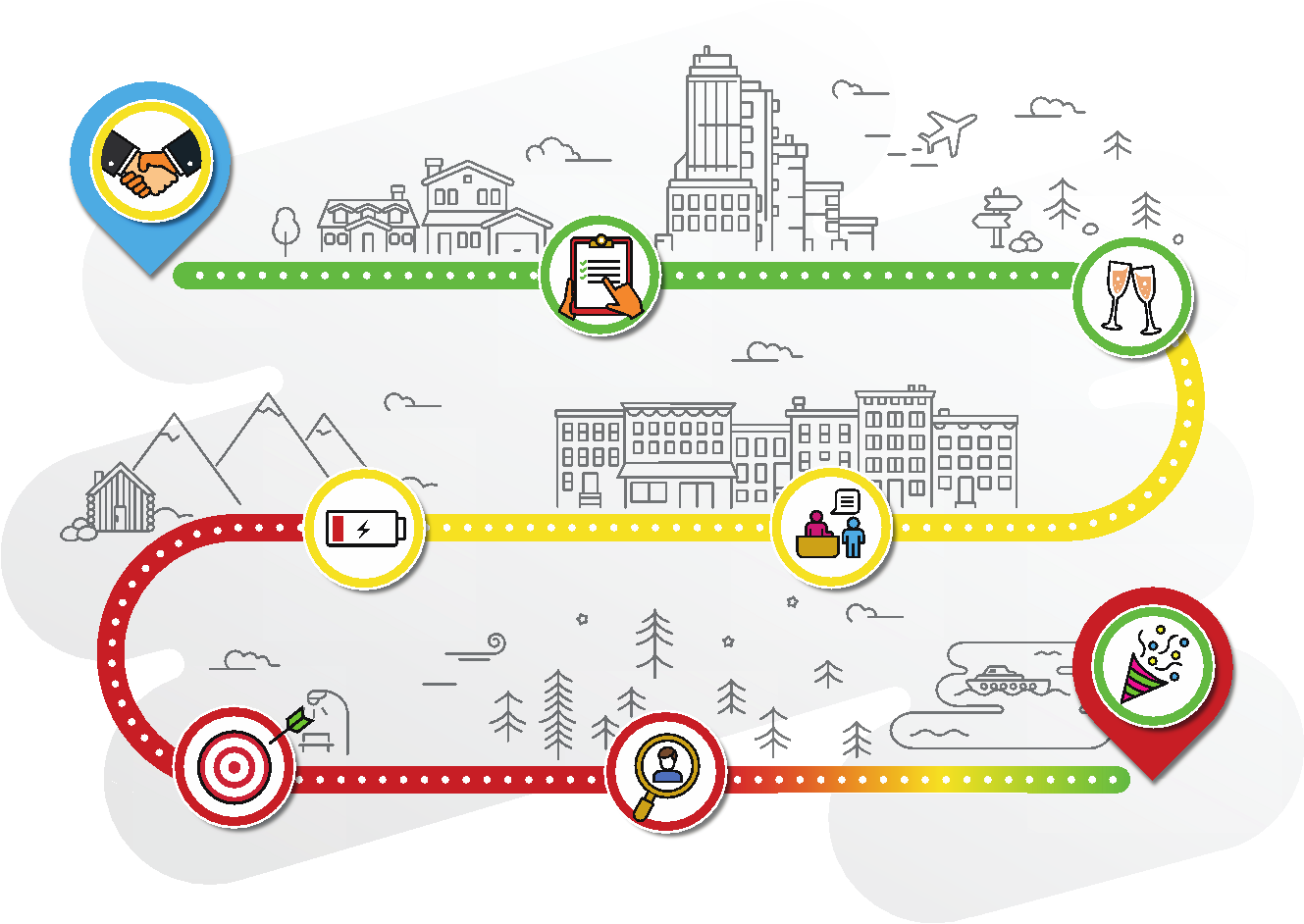 When you think about a long road trip, it's not that different from the employment journey. The early days and onboarding experiences are full of energy, optimism, promise, and dreams of what lies ahead. The first-year flies by so fast! It's not until we're a little further into the trip that "work" starts to become more "work" for us. Maybe it's the long hours, the failed project, the missed opportunity for a promotion, organizational or leadership changes, or uncertain times that have us feeling lost, and like we're fighting our way through a traffic jam in the middle of a long road trip. Eventually, leading to us towards questioning whether the journey is still worth it, am I in the right role or working for the right leader or organization?
It's during these times, that the keys to surviving a long road trip:
Purpose – emotional connection to the end destination and reason for the journey
Community – trust and connection to your 'tribe' you're traveling with
Navigation System – GPS to help you re-calculate, avoid delays, find alternate routes, and help you focus on that next turn and milestone ahead

Correlate so well and apply to the employment journey:
Purpose – an emotional connection to your organization's "why," vision, mission, and values
Community – trust and connection with your team, peers, and leaders
Navigation System – influential leaders that are committed to helping individuals course correct (feedback), avoid roadblocks and obstacles (coaching), celebrate the victories and progress (recognition), and re-center - focusing on what we can control and navigating that next step or marker in the journey (alignment)
While we will not be going on spring break this year, we do find ourselves amidst uncertain times in the employment journey. There are many people lost in the middle of nowhere and looking for help.
Leaders, it is more important than ever to help create an emotional link and connection between your organization's purpose and your team members work, to be intentional about staying connected and fostering community, even from afar, and to be that navigation system (place of comfort and confidence) for your team member in the face of uncertainty. Absorb their anxiety. Shine a light on the positive. Be a source of inspiration. Most of all, help them focus on that next step in the journey - one day, one task, and one moment at a time.
---